Other than buying a house or having children, your wedding is the most costly expense of your life. If you can't fully finance your wedding or honeymoon, then WeddingLender can help you pay for your fairytale wedding.
WeddingLender approves loans specifically designed to finance weddings, engagement rings, and honeymoons.
Apply for a low APR wedding loan with fixed interest rates of just 5.99% to 35.36% and select either a 3 or 5 year repayment period - then receive up to $40,000 into your bank account in as little as just 3 days (after approval).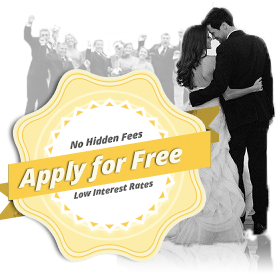 We provide personal loan options for brides, grooms, parents, and families in bridal parties - even for bad credit!
There are better things to dream about your wedding than wondering: 'How are we going to pay for all of this?'
Get Started